From the
ATWB Customer Gallery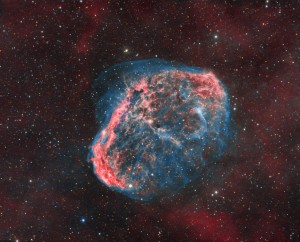 NGC 6888 the Crescent Nebula
View the Anacortes Telescope & Wild Bird Customer Gallery
How to Catch an Aurora
Even though the sunspot cycle is nowhere near maximum, there have been spectacular auroral displays in the past year or two, even at latitudes where auroras would not normally be seen.
The Internet can help you catch these rare but beautiful events.
Start at www.spaceweather.com, a treasure-trove of real-time information about auroras and other transient phenomena.
Then, if you _really_ want to know what's going on, have a look at the real-time aurora map at
http://www.sec.noaa.gov/pmap/pmapN.html
.(see picture). It's based on hourly satellite surveys of the upper atmosphere.
The red area is where auroras are likely. It twirls around like a clock, staying away from the sun, whose direction is indicated by an arrow.
My experience has been that if the red gets within 1000 miles of me, we
may
have an aurora, and if it gets within 500 miles, we
will
have an aurora. I saw spectacular auroras in Georgia when the red area was just crossing Pennsylvania.
To photograph the aurora, all you need is a camera and tripod. There's no specific "correct" exposure. Try 10 to 60 seconds at f/2 to f/4 at ISO 200 or higher.
-Michael Covington

Telescopes, Astronomy, Binoculars