From the
ATWB Customer Gallery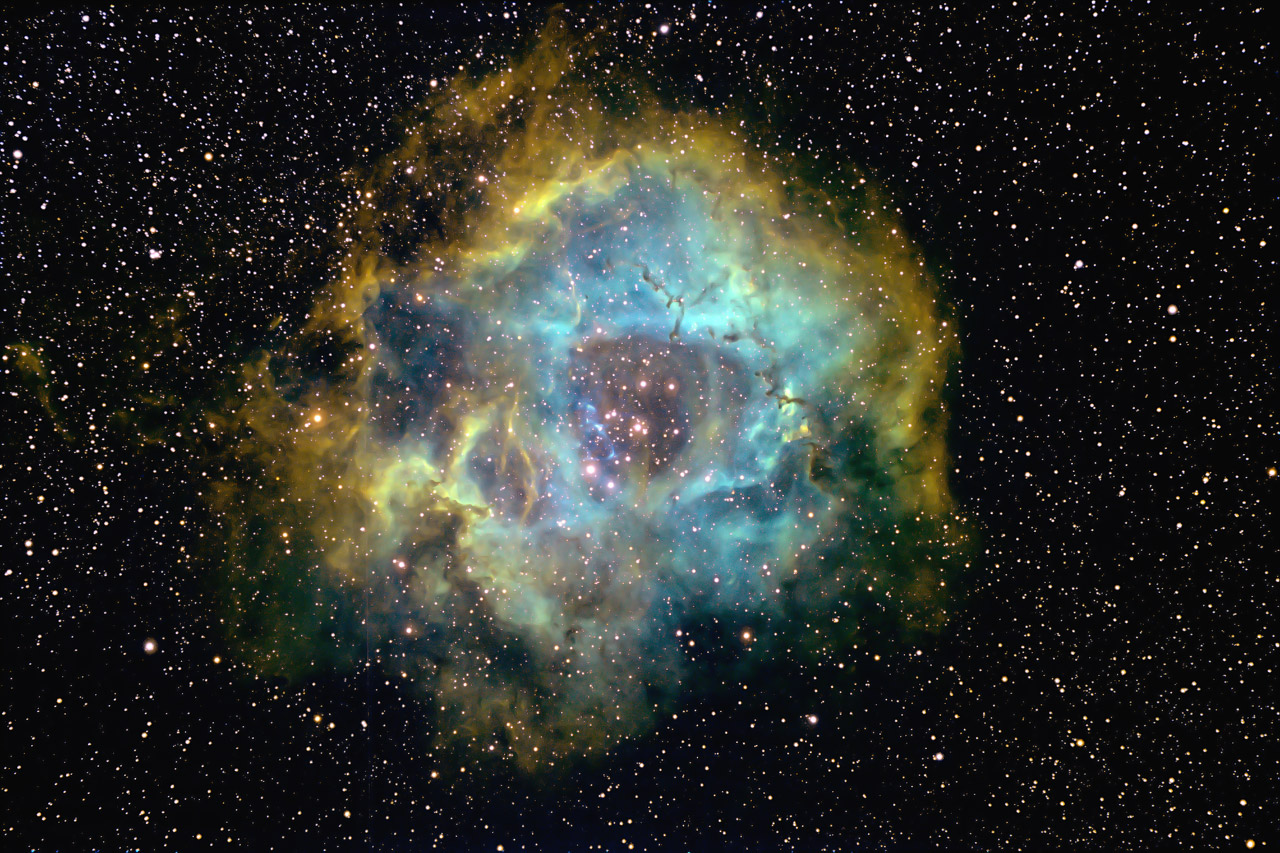 Rosette NB Reduced
View the Anacortes Telescope & Wild Bird Customer Gallery
TMB Design 130mm f7 ED Triplet APO Refractor Signature Series
This scope was announced with major fanfare as the first reasonably-priced and available premium apochromatic refractor of at least 5" aperture. Designed as an air-spaced triplet by the late-great Thomas M. Back using pricey and desirable Ohara FPL-53 glass and the latest multicoatings, the mere idea of such a scope drove apo-lovers nuts with desire, myself included. T.M.B. before his premature and tragic death, was apparently much-loved and very talented, and had become a trusted icon in the amateur astronomy community. His involvement in this scope's design dissipated any lingering reservations about this being too-good-to-be-true. Now I was no newcomer to the madness that comes from premium apos, having used a Traveler and recently obtaining an AP 130 EDF of latest vintage. I had caught the apo bug from a retro Vixen 90mm fluorite and previously owned several of the new 80mm "apo" doublets as well as a Borg 101ED. I love the AP, yet after breaking the bank on it and then seeing its value rise to absurd levels, I had become afraid of it. Do you party with the Hope Diamond as your bling? Do you chug '47 Cheval Blanc to wash down that whopper with cheese? All I could think of, every time I used it, was that first $2000 "ding". I saw the 130mm TMB Signature apo as my No Fear scope—I wanted there to be no perceptible inferiority to the AP, so that my internal devils of guilt, excess, possessiveness and college tuition could battle it out at their leisure. I would be free to keep or sell the AP, and I could stop fearing it. I placed the advance to reserve a TMB 130. In a gratifyingly short time, I got the bill for the remainder and it arrived. Expectations were very high.

On opening the box, the first thing I saw was a big dent in the nicely textured aluminum case. And it went through the wooden inner panel which was cracked. Luckily, the scope itself was well padded and there was no evidence of surface damage to it. Cosmetics were very nice with a glossy finish and a huge centimeter-etched focuser with focus reducer (essential on a good apo) and the rotating collar that I had always missed on the AP. The substantial sliding hood and metal cover were nice and the coatings seemed even and dark enough to easily see the multiple tube baffles inside. The second issue arose when I found an external ring on the focuser (attached with allen set-screws) was loose and rattled around. Although mostly a cosmetic issue, it raised doubts about the mechanics of the scope. Perhaps it was related to the delivery service abuse.

I had already purchased rings for the scope, so I tried it out on a G-11 and then a Giro deluxe alt-az mount. Mechanics were mostly solid, but a perceptible notch below the best. The focuser was excellent and smooth, but you would not mistake it for a Feathertouch (now an option for this scope) or even the Taks. Using Maxbright or TV enhanced 2" diagonals, I tried a series of Panoptics, Naglers, Radians and abbe orthos on terrestrial targets. I also shot photos of blank walls and other targets with full frame and ALPS-sized SLRs to evaluate vignetting. And I liked what I saw. Good contrast, snap focusing, no vignetting and very sharp over a wide range of powers, from the Panoptic 35 to the Nagler 3-6mm zoom (of course the pincushion that plagues the 35mm was still there as expected). All seemed well, but I knew you cannot trust the daylight.

Over several nights, I evaluated it side-by-side with the AP130 EDF. Without a diagonal, collimation of both scopes seemed fine at 260x by star test. I had to play with eyepieces and barlows to match magnifications (fl ratio of 6:7, AP to TMB). Borrowing a duplicate, I could match 3-6mm perfectly with Nagler zooms, 6:7mm with orthos or radians (with and without barlows) and 12:14 a variety of ways (wider-field testing was less critical and more eyepiece dependent). Each scope was barlowed at times and I checked them each at the lower and higher options when magnification matches were not possible. I looked at the moon and planets. I scanned the complete Washington Double Star catalog for challenging multiples that were high overhead and went from one to the next, over and over. I looked at familiar Messier friends and fainter fuzzies. I admit I was severely biased—I really did not want to find any difference. But I did. Time and time again, the TMB 130 showed less crisp airy discs and more light scatter than the oiled AP triplet. Its first diffraction ring was not only brighter, but wider. Doubles would split more cleanly in the AP. Planetary detail was a bit contrastier in the AP as were lunar features. The main distraction was that high-contrast objects seem to have a faint glow or scatter around them in the TMB that was much less apparent in the AP. For instance, I could always tell when the moon or a bright planet was about to enter the field of the TMB, well before its presence was sensed in the AP. This is not to say the TMB was a bad scope. Most deep sky objects, and particularly globulars, were not significantly different (but both poorer than through a bigger, quality Dob). The TMB was much better than the Borg 101ED and every other doublet I have used (due to a combination of its greater aperture and better sharpness at high powers). In-focus false color was hard to detect in nearly any circumstance (it was more apparent out of focus but this is of unclear relevance). Although a field flattener is needed for photos, the same is true for the AP and there is little difference between them in that respect (although the AP has a faster f-ratio). Still, when I swung the scopes towards planets and doubles, I could always tell which scope I was looking through. Would I consider the TMB if the AP was not possible? I am not sure. I have an Intes/Orion MN-61 and when it is finally cooled off, it does an equal or better job on planets for a fraction of the cost, and it sustained me well prior to the AP so perhaps I would choose that again.

The TMB 130 is an excellent scope which I believe is priced fairly for what it delivers. Photographically, it would perform well in combination with a smaller-pixel CCD and a field flattener, but it is still only 130mm. My final impression is that it is just not the salvation of the financially-responsible refractor nut (oxymoron?) in their hunt for apochromatic bliss.


Telescopes, Astronomy, Binoculars