From the
ATWB Customer Gallery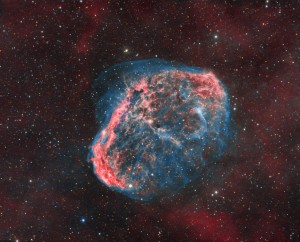 NGC 6888 the Crescent Nebula
View the Anacortes Telescope & Wild Bird Customer Gallery
Universal Astronomics' New Microstar
Universal Astronomics Microstar
When our second child was born a few months ago, suddenly the full impact of being a parent hit home. The luxury of leisurely late night observations under beautiful night skies was quickly replaced by a busy household schedule featuring crying kids, diapers, bottles and red sleepless swollen eyes. Suddenly portability and ease of setup became the top factors in my observing life, and even the thought of setting up my relatively lightweight Vixen Sphinx Mount became a daunting thought. Cables to connect? Screws to fasten? Polar alignment? Drift Method? Heck no! I'm too tired! I quickly looked around for a suitable Alt-Azimuth quick set up.
I decided first to reorganize and downscale my scope line up. I sold my beautiful Takahashi FS-102 and purchased a Takahashi Sky 90 and a Televue 60mm APO. These lightweight ultra-portable beauties were completely amenable to be paired with a small Alt-Az mount. In addition, the Takahashi Sky 90 could double as an incredible wide field astrograph when I had the time out. There are a number of alt-az mounts out there in the market, from the high end offering of Tom Peters' Discmount, through medium range offerings like Vixen's Custom D, Takahashi's Lapides-modified Teegul and ending with more simpler mounts like Bogen's 410. Universal Astronomics' new Microstar intrigued me after seeing it on S&T. I had used a Unistar some years ago and was quite impressed by its simplicity and stability, and so I decided to try out the new Microstar. Not knowing which mounting head would be most suitable, I ordered both the basic and deluxe head versions to trial and the optional eyepiece tray and handle too.
The Microstar unit showed up two weeks later in a very well packed box. I was impressed on the onset. Larry, owner of UA, has crafted a well-constructed and extremely compact mount, and one that is also aesthetically finished in matt black. I mounted the Microstar on my stable Bogen 3036 (no longer sold, see Bogen 3046) tripod and attached the eyepiece tray and handle. Setup time for mount? Less than 30 seconds! No fuss whatsoever, something even a sleep-deprived daddy can do with one eye closed. For those of you not familiar with this mount, the altitude tension is adjustable via a large ergonomic knob while the azimuth movement is pre-adjusted with no tension lock knob, unlike its bigger Unistar brethren. One can however easily readjust the preset tension of this axis by a socket wrench (peel off the top gasket of the mount).
Before going further, let me explain the difference between the standard and deluxe version. The standard version is pretty much a rectangular plate with two slots. One can easily attach OTA mounting rings to the slots and be ready to go. Being slots, there is some leeway in adjusting the spacing of the rings for balancing concerns. The deluxe Microstar head is an adjustable clamp jaw that one can quickly attach a dovetail plate to. Finally, as the ultimate indulgence and expression in decadent living, the Microstar can also be custom fitted with digital setting circles- what more can you want?
I did my evaluation on three different telescope configurations: Takahashi FS-102, Takahashi FCL-90 and Televue 60mm APO.
1. Tak FS-102
I mounted this scope on the Microstar before I sold it. This scope took to the mount like a duck to water. Using 114mm Parallax Rings attached to a Vixen dovetail plate, the scope setup clamped easily onto the Microstar's deluxe head. Although a long OTA, it is very easy to balance this scope by sliding the OTA along the rings. The Microstar was very stable and allowed pleasant low to medium viewing. Even with a 5mm radian at 164X tracking was smooth, especially when using the optional handle. Being without an azimuth lock, one had to be careful not to touch the tube when changing eyepieces under high power. However, as stated previously, one always has the option of modifying the preset tension on the azimuth nut.
2. Tak FCL-90/Sky 90 II
Mounting this scope took a little experimentation. The OTA is very short and mounting the Parallax rings on the standard Microstar slots allowed virtually no adjustability to balance. As a consequence, the tube was constantly back end heavy due to the use of Televue hand grenades. I purchased a longer dovetail plate from Ken's Rings (Astromart Sponsor) and found it very easy to use on the Microstar via the deluxe clamp head option. Once optimal balance was reached, the OTA and mount were a joy to cruise around the sky with. The optional eyepiece tray holds 3 of 1.25" or 2" eyepieces, and greatly complements the Microstar.
3. Televue 60mm APO
This little gem of a scope offers fabulous wide field views of the sky, and its unparalleled ease of use makes it an ideal candidate for a grab 'n' go. I mounted this scope on the standard Microstar head, and was able to achieve tube balance via the built in sliding dovetail mounting block indigenous to the Televue OTA. I should also add that if you purchase the deluxe Microstar, you could get a Televue Vixen/Sphinx dovetail adapter plate that can be used with this scope on the Microstar. For me, the Televue 60mm APO/Microstar option is as simple as it gets for portability. I recently tested this setup under the dark Blue Ridge Parkway skies and it was fun to hunt down Messier objects. I felt like I was drifting into space with a 24mm Televue WF, with Messier and NGC objects popping into view here and there. The nice thing about this mount is that it is intuitive to use, no knobs to tighten or release. How portable was this setup? The Microstar was under my car seat, and the Televue was under the passenger's. The tripod was folded up on the floor. Unreal!
Conclusion
What an enjoyable little mount this is. One has to keep in mind its design and loading parameters. With a small grab 'n' go scope, it is as simple as it gets for portability. As with a variety of free-moving Alt-Az mounts of this design, balance is very important for proper operation. I've used this mount extensively for a month and find little to complain about. I recommend the optional handle for greater ease of tracking and the optional eyepiece tray for the sheer convenience of not having to fumble around the dark for eyepieces. While the FS-102 plus finder and rings was the heaviest scope setup I tried on, UA states the mount will comfortably hold up to a C8.
Pros
1. Small and lightweight. The Microstar fits under any car seat with room to spare, and is great for camping trips. For ultimate field portability, try paring Microstar with Bogen's 4-section Magfiber tripods (available from Anacortes).
2. Very steady for small scopes, easy to track with optional handle.
3. Very high quality construction and finish. Quite unbreakable.
4. Zero fuss setup.
5. Reasonable price.
Cons (if you'll call them that)
1. Might need to purchase optional handle to track accurately for some scopes. A personal preference.
2. Lack of azimuth lock might take some getting used to. The azimuth tension is however pre-adjustable.
Click here for more about the Microstar Deluxe. -Ed.
Click here for more about the Microstar Basic. -Ed.

Telescopes, Astronomy, Binoculars