From the
ATWB Customer Gallery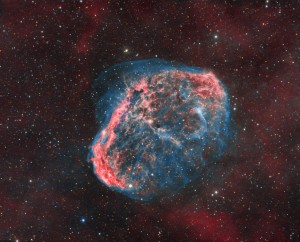 NGC 6888 the Crescent Nebula
View the Anacortes Telescope & Wild Bird Customer Gallery
Messier's Open Clusters in Urban Skies
These objects are a good place for beginners to start because many are easy to find and are pleasant sights even in a 80mm refractor in somewhat light polluted urban skies like those around Greensboro, NC. Also, most only require about 80X or less and many get very high in the sky allowing a good view.
The Pleiades, M45, I can detect with my eyes on an average seeing night and which fills the 2 degree field of view my 120mm f/8 scope gives with a 2 inch 50mm Plossl eyepiece.
Some nights I can detect with averted vision the Beehive Cluster, M44, which is another large cluster that fills most of the 2 degree field of view.
In an 8 inch f/6 Dobsonian, M11, The Wild Duck Cluster, shows itself as a possible bridge between an open cluster and a globular cluster. Even in a 4 inch scope it shows many glowing diamond like stars. Many pick this as the best of the Open Clusters.
M29, in Cygnus: many find this little grouping of stars uninteresting and once visited do not bother going back. But what I like to do is to pump up the power to around 100X hoping to see, with direct vision, the inner two 11 magnitude stars with my 4 inch refractor. If I can then I know the seeing is above average. If I can only see them with averted vision then I know the seeing is about average. If I can't see them at all then the seeing is below average.
M35, in Gemini, is one of my favorites because it has a couple of colorful stars where most open clusters do not. Most clusters have only white and blue-white stars.
M39, in Cygnus, reminds me of a Christmas tree in shape and shows about the same number of stars in a 80mm as in a 100mm scope.
There is one Non-Messier object I will mention which is the Perseus Double Cluster or Caldwell 14. This is for the wide field of view that the smaller scopes, like Orion's 100mm f/6 refractor, can give. I never tire of visiting this object.
There are three clusters in Auriga and each is distinct in its size and number of stars. M36 is sparse in stars especially when compared to M37 while M38 is between the two.
On a good night of seeing I can detect many of these in my 6X30mm right angle, correct view, viewfinder (RACV) and on an average night they are easy to detect in my 9X50mm RACV.
There are many more Open Clusters to see but the ones mentioned above get very high in the sky during the year allowing for nice viewing while others like M41 only get up to about 33 degrees of altitude at transit which in an urban sky can be a problem because of the dust thrown up by traffic and the streetlights bouncing off the dust.
Equipment I have used and liked for Open Cluster viewing.
Stellarvue's 80mm f/9 and 80mm f/6 refractors.
Orion's:
120mm f/8, 120mm f/5, and 100mm f/6 refractors.
6 inch f/8 and 8 inch f/6 Dobsonians.
Eyepieces:
Orion's Explorer II Kellners and Sirius Plossls.
Stellarvue's 50mm Plossl.
Blair Slayton
January 2005
(Editor's Note: In addition to Blair's great article here, two other good resources for urban and light polluted suburban observers include the AAAA Urban List, located at: http://www.pswalsh.com/SAS/Urban.htm and Tony Flanders' Urban Messier Report, a copy of which can be found at: http://www.pswalsh.com/SAS/urbanreport.htm

Telescopes, Astronomy, Binoculars