From the
ATWB Customer Gallery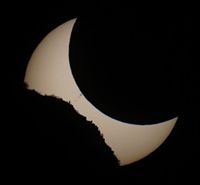 Eclipse over White Tank Mountains
View the Anacortes Telescope & Wild Bird Customer Gallery
Observatory Lot - Deerlick Astronomy Village
Lot 11 423 Constellation Lane
This beautiful/large 2 acre lot at Deerlick Astronomy Village is for sale. The lot is fairly level, has a very well established grass lawn, and is cleared of trees except for a small area at the rear of the lot to act as a border to the adjacent property. The lot has terminations for Electricity, Phone, and Fiber Internet connectivity. Ownership requires membership in the Deerlick Astronomy Village Land Owners Association. This is a perfect lot for someone looking to build their dream observatory and there is plenty of room for a home or cabin as well.
Asking price for the lot is $36,000.

Telescopes, Astronomy, Binoculars