From the
ATWB Customer Gallery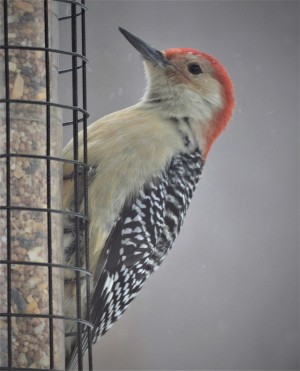 Red Bellied Woodpecker
View the Anacortes Telescope & Wild Bird Customer Gallery
Zeiss APQ 100/640 ***SOLD***
I am continuing the reduction of my collection as I am getting closer to selling my home and so the rarity and value of what is being offered is making a big jump.

Very fine Zeiss APQ 10/640 Lens and scope are pristine. Helical focuser with over 2" of adjustment range. Included in the sale are the short and long 2" eyepiece adapter and a long and medium length extension tube which will allow you to reach focus in several combinations with any camera or eyepiece you may have. The long 2" eyepiece adapter shows a few scuffs as I purchased it separately all other parts are as they should be.

There is an optics report that came with the scope which matches the serial number on the lens cell and shows an excellent quality lens. when performing a star test it performed as good as any comparable A-P. I'm only hanging on to a few A-P's so all the other wonderful scopes will need to find new homes.

Telescopes, Astronomy, Binoculars