From the
ATWB Customer Gallery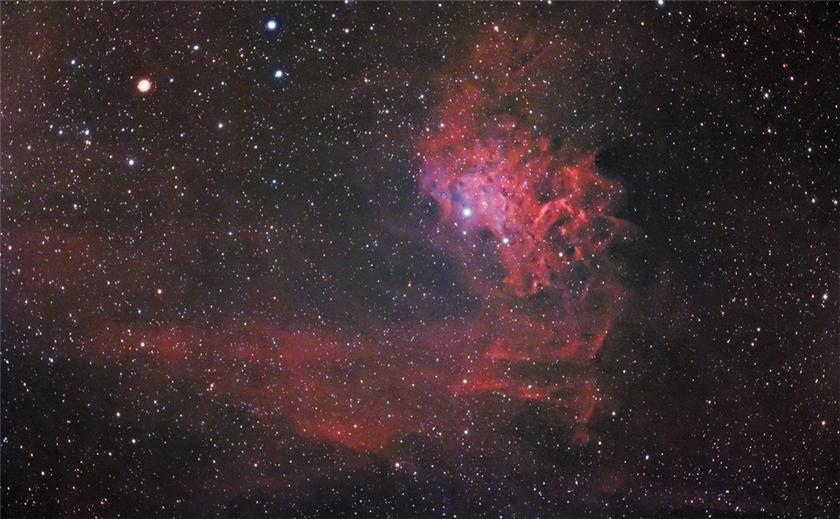 Flaming Star Nebula
View the Anacortes Telescope & Wild Bird Customer Gallery
William Optics "Star" 71 fully loaded!
I'm taking an indefinite break from astro-imaging, so am offering my William Optics astrograph and accompanying accessories for sale.

This is an f/4.9 astrograph with a built-in flattening objective, so there is no need to purchase a focal reducer or flattener - or to concern yourself with backfocus, spacing issues, etc. Attaching your camera is all you have to do. I used this with a CCD camera, but it includes a Cannon EOS adapter that threads onto the focuser drawtube. It also includes an M42 ring that threads onto the focuser drawtube, so you can have a 100% threaded connection between your camera and the optics.

This scope includes a 3-D printed extended dew shield that also serves to slightly stop down the aperture (you get about 67ish mm aperture) which leaves perfectly-shaped stars across the imaging field. I've included a comparison split-image: the left side is the uncorrected side (with insert in lower right of stars), the right side is the corrected view (with insert in lower right of close crop of stars).

Also included is a Rigel systems nStep autofocuser system with a bracket for mounting it on this telescope. I never got around to really using this, however, the stock focuser is a very solidly-built rack and pinion that easily carried a CCD camera, filter wheel, and OAG without any droop or slip.

I'm also including a William Optics red-dot finder (seen in images).

The scope is mounted on a short Vixen-style dovetail.

This is (in my opinion) the best moderately priced wide-field imaging scope available. Light-weight, simple to use, and gets good results without any fuss. Other good wide-field scopes do exist, but to me if the scope requires an additional focal reducer/flattener to work then that tells me it wasn't designed for imaging. This is - in fact, imaging is literally all you CAN do with it - it is not suitable for visual use as configured (an specially designed diagonal for this scope is available through William Optics, but is not included in this kit).

Higher resolution images produced with this scope are posted on my Astrobin page - just search for my last name.

Included in this kit (I will not break up the individual pieces, thanks for understanding!):

William Optics "Star" 71 5-element APO optical tube assembly
Custom-made (by Josh Smith) aperture ring/extended dew shield with custom fit Bahtinov mask
Rigel systems nStep USB autofocus system with mounting bracket for this scope (includes temperature sensor)
William Optics red dot finder
William Optics padded carry case with shoulder strap

Paypal only. Seller pays shipping in CONUS. Buyer please add 3% for Paypal fees.

Thanks for looking!

Telescopes, Astronomy, Binoculars