From the
ATWB Customer Gallery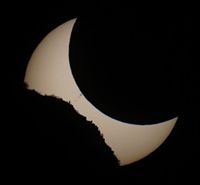 Eclipse over White Tank Mountains
View the Anacortes Telescope & Wild Bird Customer Gallery
Stellarvue SV-105 T + imaging acc
Hello,
I am selling my faithful Stellarvue Imaging system after years of companionship, with a heavy heart. The system consists of the following -

1. Stellarvue SV-105 apo triplet F/7 , 735 mm focal length with Feathertouch dual speed focuser - $1200
2. Stellarvue OTA rings + 2 mounting plates - $100
2. Stellarvue SFFR102-2 0.8X reducer/flattener - $150
3. Stellarvue extension rings for field flattener backfocus - FREE ($50 value)
4. Stellarvue 2 inch extension tube - $100
5. Rigel Sys Auto focus Stepper motor for Feathertouch focusers with USB nStep + Temperature sensor - $350
6. Stellarvue enhanced 2 inch dielectric diagonal - $150
7. Orion 2 inch Broadband Skyglow filter - $50
8. Telegizmos cover for the telescope - FREE ($70 value)

Total - $2100

I became the second owner of the apo triplet years ago and have been taking good care of it. It is still in excellent condition with minor blemishes on the OTA surface. The objective lens is in great condition but there is some dust accrued on it, which can be easily cleaned up. See pictures for the OTA surface blemishes and the dust. on objective. For the rest of the accessories, I am the first owner. I purchased these over years as I kept upgrading my imaging system.
The OTA with field flattener produces excellent flat field images across the sensor. I will also add Stellarvue extension rings (2 of them with varying lengths) for free. Some of the recent images I captured with this system from my backyard -

Astrobin picture id 305108
Astrobin picture id 305364

The RigelSys auto focus system with stepper motor allows you to maintain focus throughout the night. With the temperature sensor, you can account for temperature changes throughout the night of imaging and maintain accurate focus so your images are sharp throughout. I will send the manual + ASCOM driver + standalone software links along with the system.

The Orion Skyglow filter has been a very handy filter that has allowed me to image from backyard whenever I was unable to travel to dark sky locations. The above images were taken with the skyglow filter.

In addition to the OTA system I am also selling my trustworthy and sturdy Orion Atlas EQ-G mount. See classified #965622 for the mount. Once you purchase the imaging system and the mount, all you would need is a DSLR or CCD and an auto guider to start imaging. I am also more than happy to provide assistance and guidance to help you get started with this system.

I would prefer selling everything together and would prefer a local sale before considering shipping it out. If you would like it shipped, buyer pays shipping.
For local sale, I can drive upto 50 miles within the bay area. Cash or Paypal only. Willing to split paypal fees.

Telescopes, Astronomy, Binoculars