From the
ATWB Customer Gallery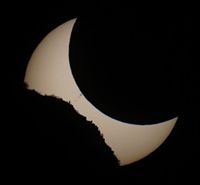 Eclipse over White Tank Mountains
View the Anacortes Telescope & Wild Bird Customer Gallery
Borg MiniBorg 50 OTA & Case
Borg MiniBorg 50 objective assembly and adjustable OTA assembly, featuring a removable 1/4-20 mounting block. White parts show discoloration from rings and a few marks or nicks. The glass is excellent and clean. I've had a number of these and if you shake them side to side, the object will rattle some. Because most, if not all of the ones I've had do this, and I have attempted to tighten the retaining rings in the past with proper tools to no avail, I'm inclined to believe it's totally normal. Of course, it has no effect on performance. Lens cap also included. Build a guide scope, make an awesome finder, make a grab and go spotter or solar scope. Whatever, it's a Borg.

I'm including a Borg plastic case for whatever you build with it.

Specs of what is included:

Objective: 50mm Ach f/5 (250mm FL)
Length: 168mm
Tube Dia: 54mm
Weight: 340g
Back Focus: 70-115mm
Filter thread: 52mm

$199 PayPal'd and shipped US 48. I would appreciate F&F option based on mutual feedback.


Telescopes, Astronomy, Binoculars