From the
ATWB Customer Gallery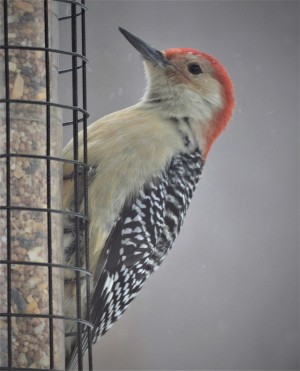 Red Bellied Woodpecker
View the Anacortes Telescope & Wild Bird Customer Gallery
Excellent Condition Obsession 20" f/5 Classic
20" f/5 Classic Obsession Telescope for Sale

Scope Stats:
#1404
Date of Manufacture: 4-1-2006
Condition: Excellent
Mirror: Original, has not been recoated, Pegasus factory installed by Obsession.
Wheelbarrow Handles
AstroSystems Telescope Cover
Factory installed Argo/Servocat with firmware update. 10K count. Wired + Wireless Hand Controller. Power routed
through truss to distribution box on upper telescope assembly.
AC power converter with three prong connector for base.
Heated telrad finder.
Telrad 4 Riser. Telrad Dew Cover.
Heated filter slide.
Heated secondary.
Powered detachable stock stalk with platform for Argo and Hand Controller.
Stock fan below mirror with 2 boundary layer fans mounted above mirror.
Dual readout thermometer for mirror and ambient air temperature difference.
Obsession shroud for trusses (also have a new, unopened obsession shroud in box).
Extra set of 2 inch shorter truss tubes for camera back focus.
Soft counter weight.
Bubble level on box.
Astro systems barlowed laser collimater.
Lifting handles on box.
Kydex dust cover for mirror inside mirror box.
New, unopened Howie Glatter Sling.
Less than year old Howie Glatter tuBlug
Less than year old Starlight Instruments Feather Touch Dual Speed Focuser.
1 year old SCOPEBUGGY specifically for this scope. Just roll out of the garage, level with factory leveling feet
installed on the SCOPEBUGGY.
Folder for scope with factory manual.

This scope has been very well taken care of and needs a good home. Financial hardship forces sale. A brand new similar scope with tax and shipping and all extras runs around $14-16k. This is an excellent condition scope, $7,300. Local pickup only. Serious inquires only please. Will not part out. Paypal or Cashiers Check Only. Buyer covers Paypal cost.


Telescopes, Astronomy, Binoculars