From the
ATWB Customer Gallery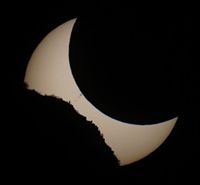 Eclipse over White Tank Mountains
View the Anacortes Telescope & Wild Bird Customer Gallery
Intes MN-76 with upgrades REDUCED
AWAY ON SHORT VACATION, WILL RETURN MONDAY, 2/19. I WILL RESPOND TO OFFERS THEN, IN ORDER RECEIVED. THANKS.

Intes MN-76 Maksutov-Newtonian OTA with rotating rings, D-style mounting plate + accessory plate, original baffled screw-on aluminum dewshield, original finder. Original gray-wrinkle tube with fan. Optics in excellent shape, tube and mechanics very good with no flaws. Only 20% central obstruction, providing excellent lunar/planetary/double-star views.

Focuser has been upgraded with two-speed Moonlight focuser, and secondary adjustment screws upgraded to Bob?s Knobs for easy alignment. Original solid reinforced wooden case also included. New versions cost Euro 3500 at APM, asking $1200 for this older model.

Pictures on request, for serious enquiries only (will set up in backyard on Losmandy GM8, and take ample pics).

Local pickup in Glendale, SoCal preferred, willing to drive ~100 miles to deliver. Otherwise, we split shipping in CONUS. Thanks for looking.


Telescopes, Astronomy, Binoculars