From the
ATWB Customer Gallery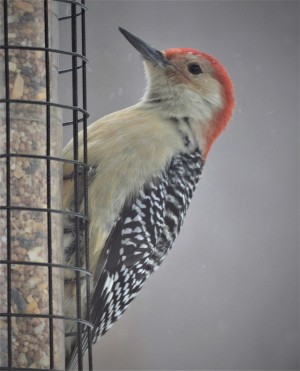 Red Bellied Woodpecker
View the Anacortes Telescope & Wild Bird Customer Gallery
Comet Catchers!!!!! Sold!
Some people say that I have too many Comet Catchers. Normally I don?t listen to such rubbish but, now one of those people is my girlfriend. So, I have decided to let two go. One orange tube and one black tube are here for sale.
The optics on both are in very good condition and perform virtually identical in back to back comparisons. There is a little bit of dust but other than that are quite clean.
Cosmetically, both show signs of use with some small scratches and very tiny dings on tubes. The orange tube has a scratch at the rear of the tube that goes through the paint to the metal.
The ?sled? focuser on both work as they were designed. This is a quirky focuser design that requires two hands to operate and only accept 1.25? eyepieces.
Both scopes have a finder base attached. No finder scope is included in this sale.
Here are a few specs;
Schmidt Newtonian
Aperture: 140mm (5.5")
f Ratio: f/3.6
Focal Length: 500mm
Weight: Approx. 8lbs
Prices are as follows and include shipping to CONUS. Money orders and Paypal (add 3%) are accepted.
Black Tube Comet Catcher - $235 - Sold to Chuck
Orange Tube Comet Catcher $265 - Sold to Gary

Clear skies and happy girlfriends!!


Telescopes, Astronomy, Binoculars