From the
ATWB Customer Gallery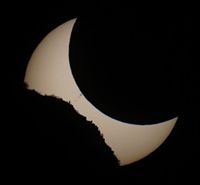 Eclipse over White Tank Mountains
View the Anacortes Telescope & Wild Bird Customer Gallery
Takahashi EM-200 Temma 2Z mount REDUCED
FOR SALE (CANADA or INTL shipping):
- Takahashi EM-200 Temma 2Z mount (manufactured in 2016)
- Takahashi metal SE-M Blue Tripod
- Takahashi 5kg Counter weight x 3
- Hand Control and RS-232 Cable with usb adapter
- ADM Losmandy style Saddle
- AC/DC 12v power supply
- Pelican Case for the mount head
Mount for 4000 USD

or 4500 CAD for local pick up / firm

Lens kit sold



This is the newer generation of Takahashi mount in blue. I am the original owner and it is a real performer for nomad style shooting. It is extremely easy to setup with or without the aid of the pole master from QHYCCD. I have done all the cabling and wiring to minimize setup time to less than 5 minutes before polar alignment and adding another 5 for polar alignment.

The mount has a maximum imaging capability between 16-17kg. I have loaded my RH200 w/ Atlas focuser on it and it shot just fine, except a bit more prompt to environment disturbance. The sweet spot is around 12 to 14 kg, at which it works buttery smooth. It does not have PEC, yet its very easy to guide out. At a good seeing night, the Peak to peak error with guiding is within 1"

The build quality is typical Takahashi product. It builds like a tank and will carry out your task for the years to come. Highly reliable and even in the coldest night in Canada. The polar built-in polar scope is also a joy to use. If you want to do a quick observation setup, all you need is to read you date and time and set the Polaris to roughly the right spot. The built in red light was just bright enough to single out the Polaris. Hence its extremely easy to work with. The alt/az adjustments are also smooth like butter.
The mount head has no paint chips on the body, when its not used, it will stay in the cozy Pelican box. Only the contact between the mount and tripod platform has some wears dur to polar alignments. There are paint chips on the counter weight.

I am the original owner of the whole imaging system. The whole imaging system is lightweight, the Prominar lens technically have 0 CA. Please refer to the attached M31 images for reference. It is shot with the QHY814A in Ontario Canada. It is also the IOTW in the sky news. The GT40 guide scope is another piece of typical Takahashi product, built like a tank and worked quite fine. I also have the L shape mount for the GT 40 if needed.
The reason I moved on is I am getting into remote imaging and purchased a 10micron mount in the hosting location to minimize the transportation hassles. I also am moving on to bigger aperture (RH200 and RH250) at which I would be needing a stronger mount to carry them.

For local buyer, I also have two Kendrick 33AH AGM batteries for sale. They can be linked up into 66AH, one with Anderson output.





Telescopes, Astronomy, Binoculars