From the
ATWB Customer Gallery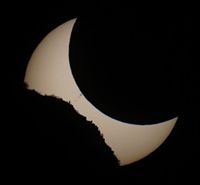 Eclipse over White Tank Mountains
View the Anacortes Telescope & Wild Bird Customer Gallery
[Reduced] Orion Atlas EQ-G with mount accessories
Hello,
Im selling my trusty old Orion Atlas EQ-G mount with additional accessories. Asking for $750 for the entire set. I am the first owner of the mount and I purchased it in winter 2013. I have used the mount for astro imaging with my trusty imaging train that I am selling as well. See classified 965615 if you are interested in purchasing the OTA with imaging accessories.

Even after years of usage, it is still very accurate and never failed me. Over the years, I have made improvements to the mount and here is the full set of mount of accessories for sale -
1. Orion Atlas EQ-G with GOTO controller and tripod for the mount
2. 11 lbs Counterweights - 4 in number
3. Anti vibration pads - 3 in number
4. ASCOM serial to USB cable
5. Orion controller to USB cable
6. Orion controller to Ipad cable
7. ADM mounting saddle (upgraded over standard Saddle. I will throw in the original saddle as well)
8. PoleMaster adapter for Orion Atlas EQ-G (just the adapter, not the pole master)

Mechanical upgrades to the mount
Last year, I made some mechanical upgrades to the mount. I replaced the flimsy Altitude bolts with sturdy metric bolts that can be turned with a bolt driver. I will throw in the bolt driver along with the mount for free. Additionally, I regreased the center bolt of the mount. I had to take the plastic plates apart to do that and the plates look ugly after taking apart. See pictures. It is purely a cosmetic issue. Functionally the mount is excellent. With the pole master, I never needed to perform drift alignment and guiding was within 30 arc seconds, better than any 3 star alignment I used to perform prior to getting the polemaster. This accuracy is with 30 lbs of imaging equipment on the mount.

I am also selling my OTA and imaging train that I used on this mount, see classified #965615 for more details.

To view some of the pictures I took with my imaging train on this mount, see astrobin profile swaroopshere

I would highly prefer a local sale and willing to drive up to 50 miles in the bay area to drop off the mount. Cash or paypal only. Willing to split paypal fees.

Telescopes, Astronomy, Binoculars