From the
ATWB Customer Gallery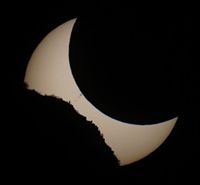 Eclipse over White Tank Mountains
View the Anacortes Telescope & Wild Bird Customer Gallery
Losmandy G11 non-goto
I'm selling my much loved Losmandy G11. I will be sad to see it go. The reason for selling is I'm acquiring a larger mount with a heavier payload.

To give a brief history of this mount. I am the original owner and purchased it directly from Scott. It has been babied and well cared for including being taken apart, cleaned and regreased on average every 3 years. Numerous astrophotos that I've taken with this mount have graced the pages of S&T and Astronomy magazines including one NASA APOD.

In September, I did a complete cleaning of all bearings and regreasing where appropriate.

In early October, I installed the following:
New clutch pads on both the RA and DEC axis
New RA and DEC motors w/hard covers
New power cords for both motors
New Hand Controller & power cord
New high precision brass worm. (I will included the original stainless steel worm too)

Also included in sale is everything in the photos:

Model 492 Digital Drive Board
Four Losmandy 11 lb counterweights
Two 5 lb weights (custom made by a local machine shop)
Counterweight shaft
Robin Cassidy tip-in dovetail saddle plate,
Losmandy Polar Scope
New 12v power cable
Extra older RA and DEC motors
Original hand controller
Original soft motor covers
Extra new set of clutch pads purchased in September
Original padded hard side MAGNUM case for equatorial head.(not pictured)

The new motors have less than 24 hours of use on them. I put $500 of upgrades into it so basically its almost like a new mount.

Asking $1150. PayPal add 3.5%

Buyer pays shipping from 02645. Or I can meet within 3 hours of Harwich, MA (SE Massachusetts).

Telescopes, Astronomy, Binoculars