From the
ATWB Customer Gallery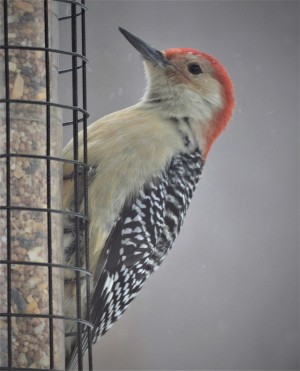 Red Bellied Woodpecker
View the Anacortes Telescope & Wild Bird Customer Gallery
Astrotrac Complete System
Complete Astrotrac system, just provide a camera and lens to start taking great astrophotos! I bought this several years ago on Astromart and have only used it a handful of times, and not at all in the last 2 years. I originally used this system as my first astrophotography setup when I was a rookie and quickly upgraded once I knew for sure I was hooked on the hobby. This is a really cool system that works surprisingly well for short focal length pictures. It shows light signs of use but is in good shape overall. Included in this sale:

-Astrotrac TT320X-AG
-TW3100 Wedge
-TH3010 Head (with counterweight shaft and counterweight)
-TP3065 Pier
-PS-10 Polar Scope
-Carrying Case
-Power cable and battery pack

Everything packs neatly into the inside of the pier and into the carrying case except the head and counterweight shaft. There are a couple known issues with the equipment:

-There is a brass spacer missing that should be between the wedge and head. This was missing when I first bought the system and I never noticed an issue and don't even know what purpose the spacer would have served.
-The polar scope does not illuminate. I was originally going to sell this system for $1000, but knocked off $100 for the polar scope issue. It is still possible to use the polar scope for alignment, just a little difficult to see. I would recommend a Polemaster alignment tool for this system anyway, it's quicker, easier, and more accurate.
-There is a screw that became stuck inside a secondary hole on the head unit and had to be cut off. The secondary hole was intended for additional support to the equipment I believe, but the single screw holds the equipment very securely.

Overall, this system has been a great performer for me, but I've moved on to a larger rig for astrophotography. Happy to answer questions or provide more pictures upon request!

Telescopes, Astronomy, Binoculars