From the
ATWB Customer Gallery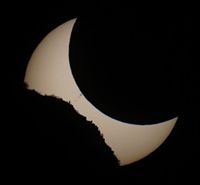 Eclipse over White Tank Mountains
View the Anacortes Telescope & Wild Bird Customer Gallery
Takahashi TGM2 mount
Fine guidescope mount for astrophotography. In excellent condition. Slow motion control only; not practical as an altaz observer's mount.

Bought from a "fellow" Astromarter with my understanding and my clearly expressing that I intended to observe with it, this fine mount is useless to me as I do no astrophotography--I sketch.

More information and photos coming soon.

Telescopes, Astronomy, Binoculars