From the
ATWB Customer Gallery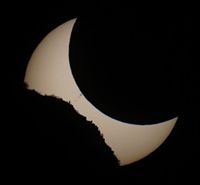 Eclipse over White Tank Mountains
View the Anacortes Telescope & Wild Bird Customer Gallery
Starlight Instrument 2" FT Focuser *REDUCED*
I am selling my STARLIGHT INST. FEATHERTOUCH DUAL SPEED 2" FOCUSER - INTES MN-86. The device is used but in great shape, very minor cosmetic flaws and the course knob has color shifted however the course and fine focus are great and the ability of this focuser is amazing. It has 1.5" travel and I used it with a Rigel Systems automated focuser on my 6" RC Scope.

Comes with the ($95) A20-271--ADAPTER 2.0" FOR ASTRO-TECH 6" RITCHIE-CHRETIEN TELESCOPE for easy assembly. See photos.

Shipping is $10 for CONUS.

Telescopes, Astronomy, Binoculars