From the
ATWB Customer Gallery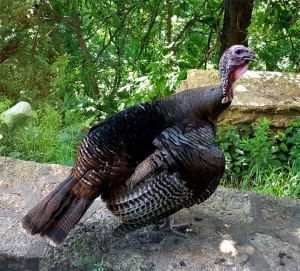 Male Wild Turkey
View the Anacortes Telescope & Wild Bird Customer Gallery
TELERAD($REDUCED$) Pulser Control & DLX Dew Shield
FOR SALE: USED TELRAD FINDER with Base / Deluxe Dew Shield and Adjustable Pulser in very good condition.

To see objects through a telescope it must be pointed to exactly the right spot. The Telrad is a sight for pointing telescopes to that "right spot." Through a Telrad you see the sky the way the star charts show it. Not a small upside-down and magnified portion of it. Select an object on the chart and note its position among the visible stars. Then set the Telrad crosshair on that spot in the sky. A quick rough setting will put the object in the field of a finder scope. With no finder, or a faint object that won't show, use a more careful setting to put the object in the field of the telescope.

The reticle pattern in this model is illuminated by a red LED.

The Telrad is 8 inches long, and mounts on almost any telescope or spotting scope without drilling holes. It unlocks from its base for separate storage. Runs on two AA batteries (not included).

The Telrad Sight has also found wide adoption in the stage lighting industry. It works very well as a spot light sighting device for professional concert and stage spot light operators.

Specifications:

Magnification: 1x (Zero power)
Weight (with 2 AA batteries, not included): X oz.
Total length: X" / Ymm
Total height (with base): X" / Ymm
Maximum width (excluding screws): X" / Ymm
Viewing window dimensions: X" x X" (Ymm x Ymm)
Base thumbscrew specification: 6-32, 0.5" long (2x)

The Telrad Pulser improves contrast by pulsing the reticle image on and off, thus aiding in the location of faint objects. It will also greatly increase the battery life for your Telrad. Following the simple instructions you can easily install the pulser in a short time. Once installed, the original control knob still controls the power and brightness, and the new control knob will control the pulse speed of the reticle image. You can vary the pulse frequency from very slow to having the reticle image constantly on.



Telescopes, Astronomy, Binoculars