From the
ATWB Customer Gallery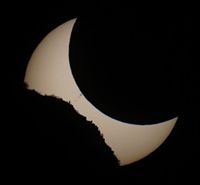 Eclipse over White Tank Mountains
View the Anacortes Telescope & Wild Bird Customer Gallery
Set of Takahashi LE
[SIZE="Large"]Takahashi LE set[/SIZE]
This set of Takahashi LE eyepieces includes 5mm, 7.5mm, 12.5mm, 18mm, 24mm, & 30mm eyepieces with boxes and field lens caps. Pretty much the way they came when purchased.
These eyepieces are in near new condition. The condition of the boxes varies but are generally very good.
[SIZE="Small"][COLOR="Gray"]Note, the 24mm is in an 18mm box. I had a bino pair of 18mm and loaned one out but never got it back. My assumption is I loaned it out in the 24mm box. Anyway, there is a box for the 24mm, it's just labeled "LE-18"[/COLOR].[/SIZE]
Full disclosure: Optics are excellent in all except the 18mm.
The 18mm has a single small 'spot' on the eye lens that is in the AR coating. It is not in the glass. It does not affect normal viewing.
If you look at the photos you'll see the 'spot' about 1/4 from the top at ~12:00. Move 5 or 10 degrees to the side and you can't see the 'spot'. It doesn't seem to affect the viewing unless you move your eye off-axis (exactly) in the direction of the 'spot' to the point of 'kidney bean' effect.

Shipping included via USPS Priority Mail in the USA. Add $10.00 for shipping to Canada. Please email for the cost of shipping to Foreign countries.


Telescopes, Astronomy, Binoculars