From the
ATWB Customer Gallery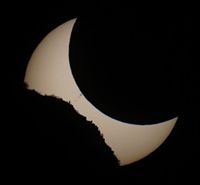 Eclipse over White Tank Mountains
View the Anacortes Telescope & Wild Bird Customer Gallery
Deep Immersion LOA 32mm 3D Plossl Pair
[COLOR="Blue"][SIZE="Large"]For All Binoviewers and Giant Binoculars That Accept 1.25" Eye[pieces![/SIZE][/COLOR]

My 32mm 3D Plossls are of exquisite quality, only 3.5oz each and fully machined from aluminum. Anodized with no annoying grooves on the barrels! FREE SHIPPING for a limited time. See deepsky objects in amazing 3D. When you view with a Binoviewer, you see the night sky with two eyes. However, the view is still FLAT. As the inventor of the Lederman Optical Array (LOA), I watched the amateur astronomers and their quest for larger and larger AFOVs. My dream was to offer an exponential leap for visual astronomy and deepsky viewing. Hundreds of observers are now believers.

Free Shipping in USA by Priority USPS Mail. Overseas shipping a fixed price of $35 Priority Mail International.

The LOA 32mm plossls are of course fully multi-coated, symmetrical design, the highest quality and offer amazing 3D views of deepsky and will even show planets floating far in front of the starry background.

LOA 32mm Deep Immersion 3D Plossls
$349 for the pair
Add a $99 LOA 32mm Plossl Neutral for Solar and Lunar*
50 degree AFOV
3.5 oz each
FMC
18mm Eye Relief
No retention grooves in barrels
Ideal for all binoviewers and giant binoculars

LOA 21mm Deep Immersion 3D Widefield Eyepieces
$599 for Pair
Add a $149 Neutral for Lunar and Solar Viewing*
65 degree AFOV
3.5 oz each
FMC
No Retention Grooves in Barrels
Fully machined Aluminum, anodized
17.5mm Eye Relief

The 3D Image
To at least get an idea of what it is like to view the night sky in 3D through your telescope, see the "side by side" image of M27. Look at the center white line and slowly slightly cross your eyes. The line will diverge in opposite directions. You will see three images. The center image will be in 3D!

*When viewing The Moon, the eyepiece WITH the 3D optical array (only one of the pair has this) should be switched with another neutral. The 3D has an interesting but only a "novel" effect on The Moon. For planets, if they are viewed at low power and the entire planet fits within the center array panel, the view is amazing. If high power is used and the planet exceeds the size of the panel, like The Moon, planet images will be "broken up".



Telescopes, Astronomy, Binoculars