From the
ATWB Customer Gallery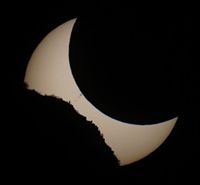 Eclipse over White Tank Mountains
View the Anacortes Telescope & Wild Bird Customer Gallery
Shoestring Astronomy DSUSB Canon controller
I bought this for the Solar Eclipse to control my 6D with the automated
Eclipse software, only used it during testing. I decided to manually shoot
the eclipse. If you are familiar with these you know what they do, if not
look up Shoestring Astronomy's website. This was $75 new.

Telescopes, Astronomy, Binoculars