From the
ATWB Customer Gallery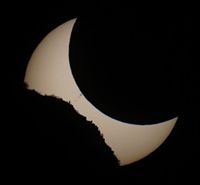 Eclipse over White Tank Mountains
View the Anacortes Telescope & Wild Bird Customer Gallery
Like New Tamron 150-600mm Di VC USD G2 Canon
I'm selling a barely used, in like new condition, Tamron telephoto zoom lens, 150-600mm, F/5-6.3, Di VC USD G2. This lens is great for bird and wildlife photography and this is the newer "G2" version of the lens. The lens is sharp, focuses fast, image stabilization works great, easy to carry around and the 150-600mm zoom range is awesome. The telephone end of the lens with a crop-sensor camera such as 7D or 7D II gives you a whopping 960mm reach. I primarily used it for bird photography. Takes great photos - I've included a sample of 3 bird photos taken with this lens. I'm selling to fund another project.

I have only used it a few times and it is in prestine condition, 9.5 out of 10. The lens has never been touched for cleaning. Comes with the original box and all inserts.

I would prefer PayPal payment but I can also accept check (must wait for it to clear) or cash in person. Shipping to CONUS only please. Please add 3% for PayPal payment.



Telescopes, Astronomy, Binoculars