From the
ATWB Customer Gallery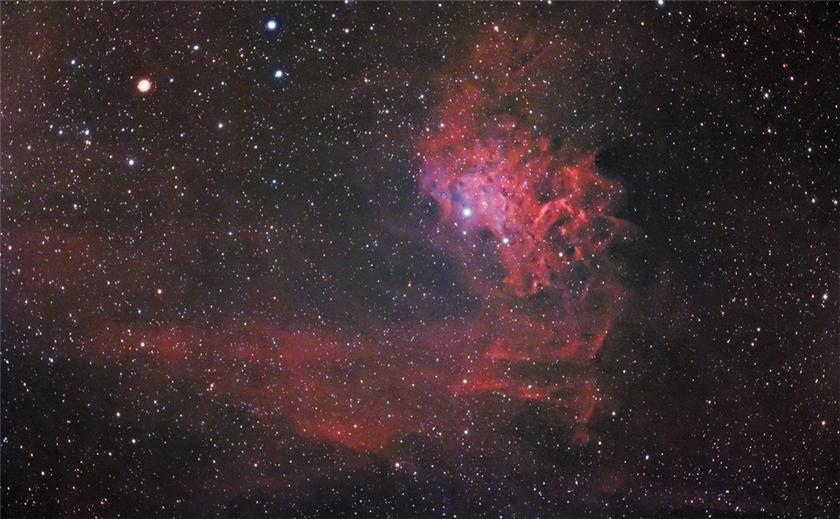 Flaming Star Nebula
View the Anacortes Telescope & Wild Bird Customer Gallery
Fujinon 8x32 HS roof, with box & case
This is a pair of Fujinon roof binoculars from the mid-1990's. I'm moving on a number of my bino collection, to fund new gear. These need to make way.

I bought them a few summers ago as New Old Stock.
They're very good roofs. Sturdy, hefty, waterproof, and they perform really well. They have Fuji's proprietary coatings (Electron Beam Coating, EBC), they are rubber armored, and they have been very nice to use.
I took them hiking and camping. I have a pair of 8x roofs that I prefer, so they haven't seen much use in the last year.

Cosmetically, functionally and mechanically I have to rate them as a 10 since they just haven't seen hardly any wear. Since they're a rare model (I know I'd never heard of them when I picked them up), there is a great review* of them at BirdForum, which includes comparision against the author's Zeiss Terra and Nikon SE.

*(I'm not allowed to link to the review per AM rules, but if you search "Fujinon 8x32 HS" you'll find it easily)

All original accessories are included: Fujinon neck strap, case, the box, and the manual. They have the QC sticker on them as well.

$200 includes shipping within the U.S. Payment by Paypal, and I will pay the fees.

Thanks for looking. Please send PM with any questions.

Telescopes, Astronomy, Binoculars