From the
ATWB Customer Gallery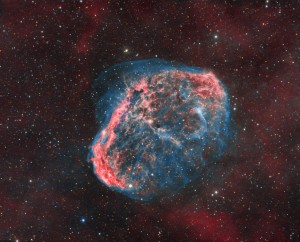 NGC 6888 the Crescent Nebula
View the Anacortes Telescope & Wild Bird Customer Gallery
Tak Extender EXQ-1.6X for FSQ106N / Sky90 (Sold)
I have for sale my Tak Extender 1.6x which is suitable for the older Tak FSQ, Sky90 and other FS and FC series OTA's. With the Tak FSQ, the focal length is extended from the native 530mm to 848mm for both visual and astrophotography. This barlow is as good as it gets in providing razor-sharp images and a perfectly flat field across a 44mm image circle, thus being suitable even for sensors as large as a full-frame CCD or DSLR. With non-APO refractors, it helps remove chromatic aberration and provides a crisper image. Finally, this extender is also suitable for binoviewing.

My unit includes all of the extension tubes as well as both end caps. The unit is in excellent condition.

The price above includes insured shipping with tracking number and PayPal fees. Current price for a brand new unit is $530 (Tak part # TKA00595).

Telescopes, Astronomy, Binoculars