From the
ATWB Customer Gallery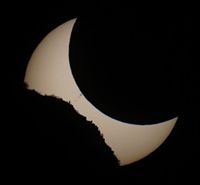 Eclipse over White Tank Mountains
View the Anacortes Telescope & Wild Bird Customer Gallery
This auction is closed.
iStar-Optical Phoenix WXT 204mm, 2 element, F/6 refractor
Auction No.:

12173

Starting Bid:

$2700

Reserve not met

Location:

East Garrision, CA - United States

Started:

11/05/2017 13:41:PM

Ends:

11/19/2017 13:41:PM

Shipping:

Payment:

PayPal, Personal or Cashier's Checks

Hits:

1123
iStar-Optical Phoenix WXT 204mm, 2 element, F/6 refractor, roto-lock compression rings, with 2? focuser including:
mounting rings with losmandy style dovetail plate;
rigel quikfinder with illuminated reticle;
william optics bracket for a 50mm finder;
original shipping box; 53?x14?x14?

I am the original owner. I purchased the scope from OPTCORP November 2015. It was factory collimated. The optical tube, focuser and mounting rings together weigh approximately 33 lbs. I had it mounted on an iOptron iEQ45 mount (NIC) and properly balanced I did not have any trouble tracking for visual observing. The OTA assembly required approximately 30 lbs of counter weight (NIC).

This scope has the wonderful rich field, high contrast views you would expect from a good refractor with fully multi-coated optics. In my opinion, this is a quality built scope and a great deal for the price. Not much color and very little perimeter field distortion. The 8? aperture is really nice and made a huge difference when compared to my 4?. The dew shield collapses down approx. 12? for transport and storage. The end cap is held on by little magnetic plates. The focal length is approx. 1200mm and I generally used eyepieces in the 17-31mm range with pleasing results. I am getting older and have decided to lighten my load so to speak, otherwise I would have kept the scope for a longer time. I will be sorry to see it go.

There was a good review of the scope in 2014 on cloudy nights: https://www.cloudynights.com/articles/cat/user-reviews/the-istar-phoenix-wft-204-%E2%80%9Ccomet-hunter-%E2%80%9C%E2%80%A6-r2868

Buyer to pay shipping and insurance. PayPal friends and family or cashiers check for payment. Email me with questions and thanks for bidding.

| Time Placed | User | Bid Amount |
| --- | --- | --- |
Thomas Piller (TPILL)
Rating: (Not Rated)

Telescopes, Astronomy, Binoculars