From the
ATWB Customer Gallery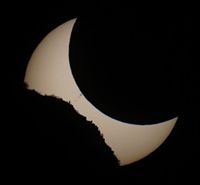 Eclipse over White Tank Mountains
View the Anacortes Telescope & Wild Bird Customer Gallery
This auction is closed.
Pelican 1500 case with original foam inside clean
Auction No.:

12178

Current Bid:

$63.00

High Bidder:

John Sillasen

Bid History:

22 Bids [View History]

Location:

Spokane Vly, WA - United States

Started:

11/08/2017 15:30:PM

Ends:

11/15/2017 15:30:PM

Shipping:

Payment:

PayPal, Personal or Cashier's Checks, Money Orders

Hits:

337
This Pelican 1500 case isn't needed around here right now, so I'm going to let it go.

The original foam is all inside, though as you can see, it has been cut for holding 2" and 1.25" eyepieces. It will hold MANY eyepieces and they won't move an inch during transit with you to your observing site.

Seams are perfect. Both latches clamp down with precision. There are factory punched holes that will allow for padlocks to be used. The handle folds-in exactly as it should.
Cosmetics are excellent, though there are a few small contact areas. Still, as you can see, it is excellent in appearance. Foam has no stains or stinks.

All nations welcome to bid.
| Time Placed | User | Bid Amount |
| --- | --- | --- |
| November 14, 2017 08:14:17 AM | John Sillasen | $63.00 |
| November 14, 2017 08:14:17 AM | Augusto Hernandez | $62.00 |
| November 14, 2017 08:13:53 AM | John Sillasen | $61.00 |
| November 14, 2017 08:13:53 AM | Augusto Hernandez | $60.00 |
| November 12, 2017 09:29:06 PM | John Sillasen | $56.00 |
| November 12, 2017 09:28:53 PM | Ken Armstrong | $50.00 |
| November 12, 2017 09:28:53 PM | John Sillasen | $49.00 |
| November 12, 2017 09:28:27 PM | Ken Armstrong | $47.50 |
| November 12, 2017 09:28:27 PM | John Sillasen | $46.50 |
| November 12, 2017 09:28:07 PM | Ken Armstrong | $43.50 |
| November 12, 2017 09:28:07 PM | John Sillasen | $42.50 |
| November 12, 2017 09:26:55 PM | Ken Armstrong | $40.25 |
| November 12, 2017 09:26:55 PM | John Sillasen | $39.25 |
| November 12, 2017 09:26:31 PM | Ken Armstrong | $33.25 |
| November 12, 2017 09:26:31 PM | John Sillasen | $32.25 |
| November 9, 2017 04:58:38 PM | Ken Armstrong | $31.00 |
| November 9, 2017 09:01:30 AM | Charlie Liggett | $16.09 |
| November 9, 2017 09:01:30 AM | Ed Blankenship | $15.59 |
| November 9, 2017 06:47:29 AM | Charlie Liggett | $10.61 |
| November 9, 2017 03:46:28 AM | Steve Gorton | $10.11 |
| November 8, 2017 10:37:27 PM | Ed Blankenship | $2.88 |
| November 8, 2017 06:54:49 PM | Fernando Rivera | $1.00 |
Andy Sedlacek (fct-150)
Rating:
(1618)

Telescopes, Astronomy, Binoculars