From the
ATWB Customer Gallery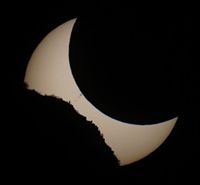 Eclipse over White Tank Mountains
View the Anacortes Telescope & Wild Bird Customer Gallery
This auction is closed.
Zhumell set of (5) 1.25" color filters in their cases
Auction No.:

12179

Current Bid:

$13.07

High Bidder:

Ed Blankenship

Bid History:

10 Bids [View History]

Location:

Spokane Vly, WA - United States

Started:

11/07/2017 23:06:PM

Ends:

11/14/2017 23:06:PM

Shipping:

Payment:

PayPal, Personal or Cashier's Checks, Money Orders

Hits:

160
These are all 1.25-inch format and will work with any eyepiece from a manufacturer I know EXCEPT for Criterion, Vernonscope (Brandon), and the older Bausch And Lombs from Japan.

The kit includes: 82A light blue
56 green
12 yellow
21 orange
23A red

These are perfect for bringing out extra detail when observing Saturn, Venus, Mars, and Jupiter. When using a 3.1-inch to 7-inch refractor, you are gathering enough light with the aperture than adding a filter really will bring out details you will otherwise miss with an unfiltered eyepiece.

Made of aluminum and glass and give excellent views with equal color throughout the entire field of view on the eyepiece. The light blue filter will stop down purple chromatic aberration in achromat refractors. It will not reduce it completely, but will reduce it to a noticeable effect.

Everything is all original from Zhumell. The cases are in very excellent to mint condition with no chips, cracking or uneven seams. All filters are in mint cosmetic condition with perfect threads. All filters are in very excellent condition and one is mint. Absolutely NO issues with the glass and no need to even dust them anytime soon. They are sterile clean.

All nations welcome.
| Time Placed | User | Bid Amount |
| --- | --- | --- |
| November 12, 2017 09:21:11 PM | Ed Blankenship | $13.07 |
| November 12, 2017 09:21:03 PM | James Kerr | $12.57 |
| November 12, 2017 09:21:03 PM | Ed Blankenship | $12.56 |
| November 12, 2017 07:38:34 PM | James Kerr | $10.55 |
| November 11, 2017 03:33:09 PM | Ed Blankenship | $10.05 |
| November 11, 2017 03:33:09 PM | rory coldwell | $10.00 |
| November 10, 2017 10:22:13 PM | Ed Blankenship | $8.61 |
| November 10, 2017 06:00:08 PM | James Kerr | $5.55 |
| November 8, 2017 10:35:14 PM | Ed Blankenship | $2.25 |
| November 8, 2017 10:53:49 AM | Barak Carter | $1.00 |
Andy Sedlacek (fct-150)
Rating:
(1618)

Telescopes, Astronomy, Binoculars