From the
ATWB Customer Gallery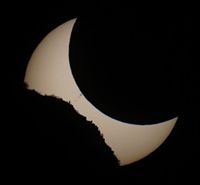 Eclipse over White Tank Mountains
View the Anacortes Telescope & Wild Bird Customer Gallery
This auction is closed.
1970s Celestron C8 (gold rim) mylar solar filter w box
Auction No.:

12180

Current Bid:

$12.50

High Bidder:

Ed Blankenship

Bid History:

5 Bids [View History]

Location:

Spokane Vly, WA - United States

Started:

11/07/2017 23:26:PM

Ends:

11/14/2017 23:26:PM

Shipping:

Payment:

PayPal, Personal or Cashier's Checks, Money Orders

Hits:

193
This is the gold-colored, aluminum-framed mylar solar filter that would have gone with the orange C8s of the mid 1980s. I recognize the color of the frame to be like those sold by Tuthill. However, the old mpn number doesn't ring-up, which is 07191.

This number is too large to be an older Orion product as well.

Anyway, the filter frame is in very excellent condition with true form and all the original hardware and felt. The mylar has (5) micro pits that I can find when held to my face and aimed at my (2) floodlights. These are very, VERY tiny, but they are there. So out of safety, the mylar should be replaced before solar viewing. Mylar isn't expensive at all, so not a big worry.

And at that you'll have a wonderful-looking, vintage solar filter frame to not only match your orange C8, but install of the mylar will be easy. This will fit ANY major brand 8" schmidt like the older Meade 8s and the Orion 8.

Comes with original plastic bag and box.

All nations welcome!
Andy Sedlacek (fct-150)
Rating:
(1618)

Telescopes, Astronomy, Binoculars